Openreach is creating 5,300 new jobs in its drive to speed up the UK's broadband networks.
The government has told telecoms firms it wants ultra-fast broadband networks to reach every corner of the UK.
To achieve this, BT's Openreach division is recruiting 2,500 people for engineering jobs and estimates its construction partners will take on 2,800 more.
Openreach aims to connect 20 million homes and firms by the late 2020s.
The £12bn project has been accelerated in part due to the pandemic.
The government estimates that with a full-fibre optic broadband network available, nearly two million more people than previously estimated could choose to work from home in the long term, reducing transport and housing pressures in big cities and boosting local and rural economies across the country.
At the moment, Openreach is extending its full-fibre network to 40,000 homes and businesses a week, but by the end of next year, that will have to rise to around 50,000 premises a week, if the project is to stay on target.
The Centre for Economics and Business Research (Cebr) have found that a nationwide full-fibre broadband network would boost UK productivity by £59bn by 2025 – and updated modelling suggests it could enable nearly one million more people to access employment.
Openreach says people will not need engineering skills to apply for the jobs – among its recent recruits have been shop workers, ex-servicemen and women and a trainee vet.
Rural broadband still leaves much to be desired
In the past, Openreach has come under fire for failing to invest quickly enough and sticking with its legacy copper network for too long.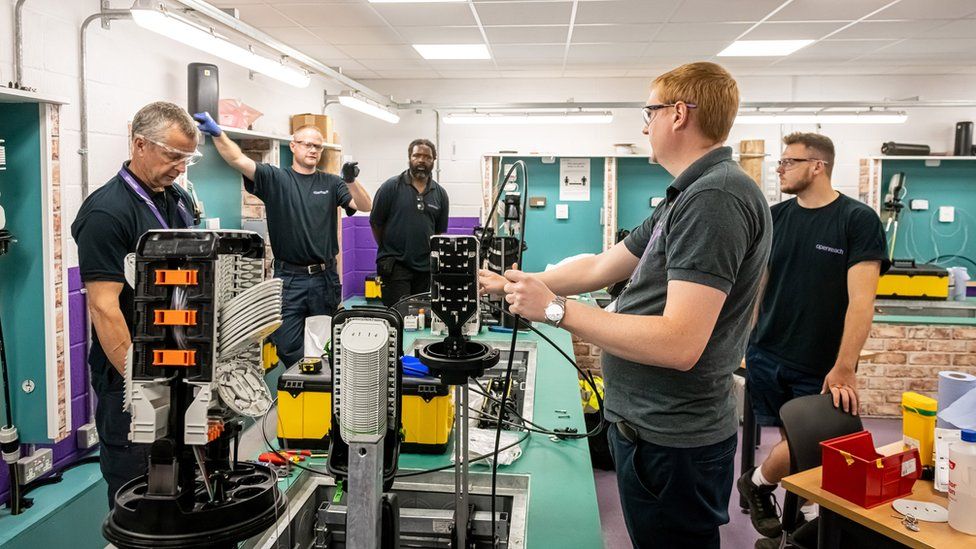 According to Ofcom, there are almost 600,000 homes and businesses that do not have access to a broadband connection higher than 10Mbps.
In July, Openreach pledged to make new fibre-to-the-property (FTTP) connections available to 3.2 million premises in 250 towns and villages, including Thurso in the far north of Scotland, Aberystwyth on Cardigan Bay in Wales and Lingfield in Surrey.
One of Prime Minister Boris Johnson's most ambitious election pledges was the promise of providing all homes and businesses in the UK with gigabit broadband speeds by 2025.
It came with the promise of £5bn to get the job done – but in the spending review it was announced that only £1.2bn of that would be made available over the next four years. And Mr Johnson's pledge was lowered to 85% of homes.
In November, internet and network providers pressed the government to clarify when it would be making the remaining £3.8bn available.